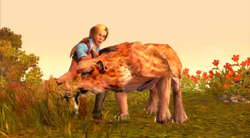 Associated units
{{{Units}}}
"
There's a sweet little Eusmilus down here!
"
Eusmilus is an extinct species of large cat from the Eocene, similar to Smilodon. It was distinctive for its long head, and large, flat sabre teeth.
Stina Holmlund bonded with one after she saved it from a Smilodon pack, and used it as a mount. Eusmilus Riders, trained by Stina, also use the animals as mounts.
James Warden gives the Norsemen a Eusmilus Kennel when he reaches level five.
Description
Edit
The Eusmilus was a sabre-toothed cat found in Europe, Asia and North America during the late Eocene. Growing up to a maximum of 2.5 m in length, these carnivores were known for their long, flattened sabres.
Related links
Edit
Ad blocker interference detected!
Wikia is a free-to-use site that makes money from advertising. We have a modified experience for viewers using ad blockers

Wikia is not accessible if you've made further modifications. Remove the custom ad blocker rule(s) and the page will load as expected.